"On average, people remember 65% of the information they see as infographics or visuals. Whereas they remember only 10% of what they hear." – Social Sciences Research Network
Creative infographic design is an amazing way to express complex ideas and stories easily and quickly with the help of pictures, icons, flow charts, diagrams, and other colorful visual graphics.
Infographics make boring facts and information exciting to read and bring clarity to confusing topics by making use of creative designing. They are a wonderful tool to inform, educate, and inspire your audience to take the described action, effortlessly.
The most interesting thing about infographics is that they remove language barriers and convey your intended message in a visual and graphical form that people belonging to all lingual backgrounds can comprehend.
Do you want to create impressive infographics for yourself to present your product or services and establish effective communication with your targeted customers?
Check out Dad of Ad, one of India's top advertising agencies for high-quality infographic design services. We have professional graphic designers who are skilled with professional graphic design techniques.
Tips to create an effective and creative infographic design
A creative infographic design can become your brand's propagator and source to generate leads and purchases for your product. Therefore, designing infographics requires attention to detail.
Here, we've brought about 25 Creative Infographic design ideas for you to apply when creating stunning and impactful infographics.
When you are explaining a process through a creative infographic design to your potential clients, audience, or viewers, illustrate your process in a complete flow.
Look at the creative designing in the infographic below as an example of how the whole process of online shopping is presented in a clear, substantial manner.
This infographic includes arrow marks showing the direction, numerical diagrams to illustrate actions, instructions at each step, and a beautiful structure making the whole process easy and quick to understand.
If you were to explain the process of online shopping it would take you not less than 10 minutes. But a simple, creative infographic design explained everything in a split minute.
Check out Dad of Ad, the best infographic design services agency to get such infographics designed for you as well.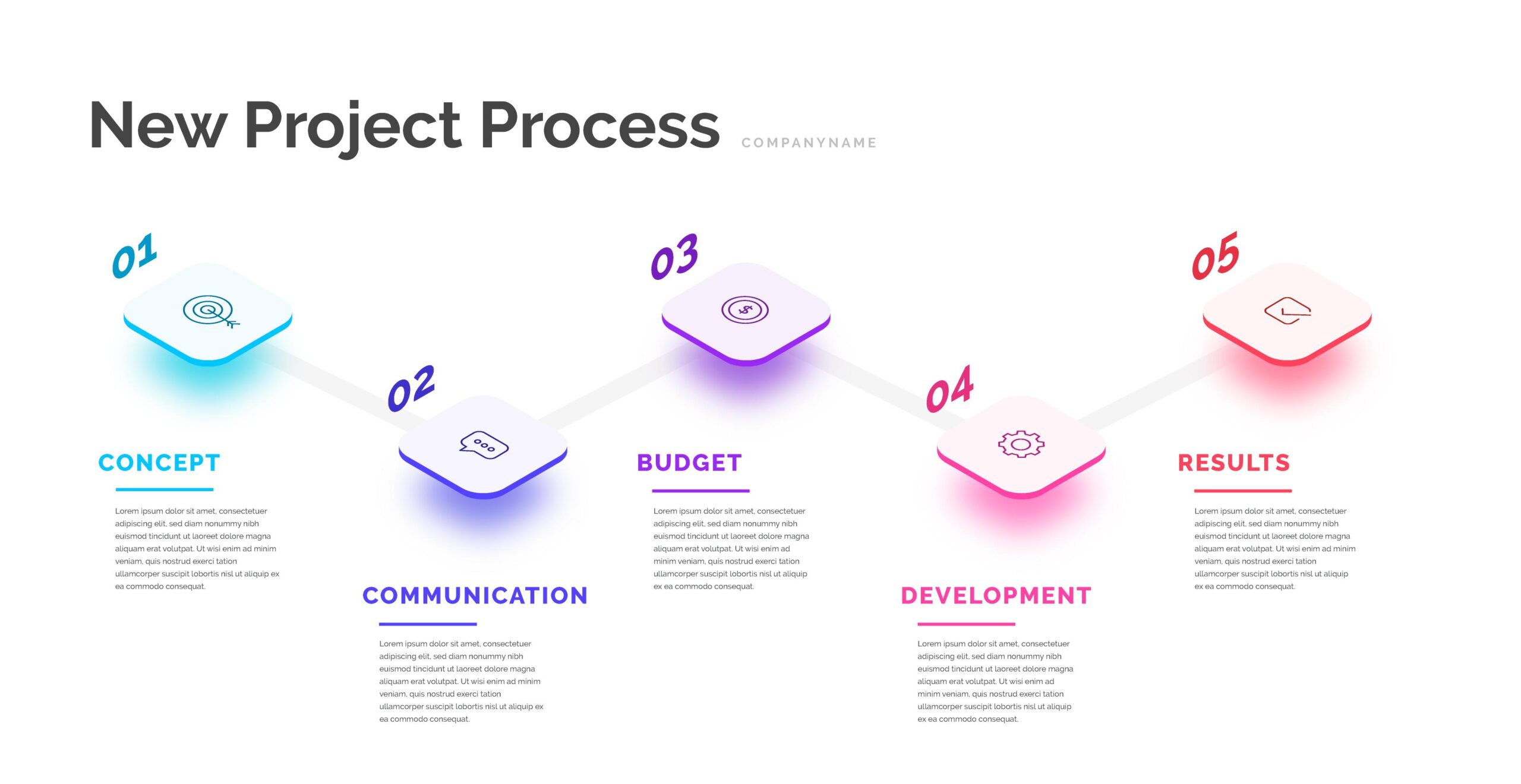 Dividing a bigger topic into small blocks
By dividing your topic into small parts or blocks with graphics, you can deliver your message more accurately. Generally, people take time to understand a complicated idea or a topic that is packed in a large volume.
A creative infographic design that presents the overall view into small segments, showcasing the idea in a graphical presentation can help simplify a complex idea and make it more understandable.
Below is an example of a creative infographic design where a broader concept is divided into small sections:
Presenting step-by-step guides or instructions enhances clarity, facilitates understanding, and promotes effective communication between you and your audience.
Keep all the creative designing strategies in mind and progress gradually from one stage to another touching all the elements of each stage.
Here is an infographic template designed to present step-by-step instructions:
Place maps in your infographic designs
Creative designing of your infographic can feature maps to communicate statistics. Here, we are not just referring to country maps or regional maps. It may include all types of maps such as a map of your organ system, a map of data written in flowcharts, weather pattern maps, etc.
By visually representing the characters, locations, events, etc., you can create a narrative structure and engage with the viewer, providing a visual journey through your information. 
This requires high-quality, professional graphic design skills and techniques. Hence you may approach an infographic design services agency to get your infographics prepared.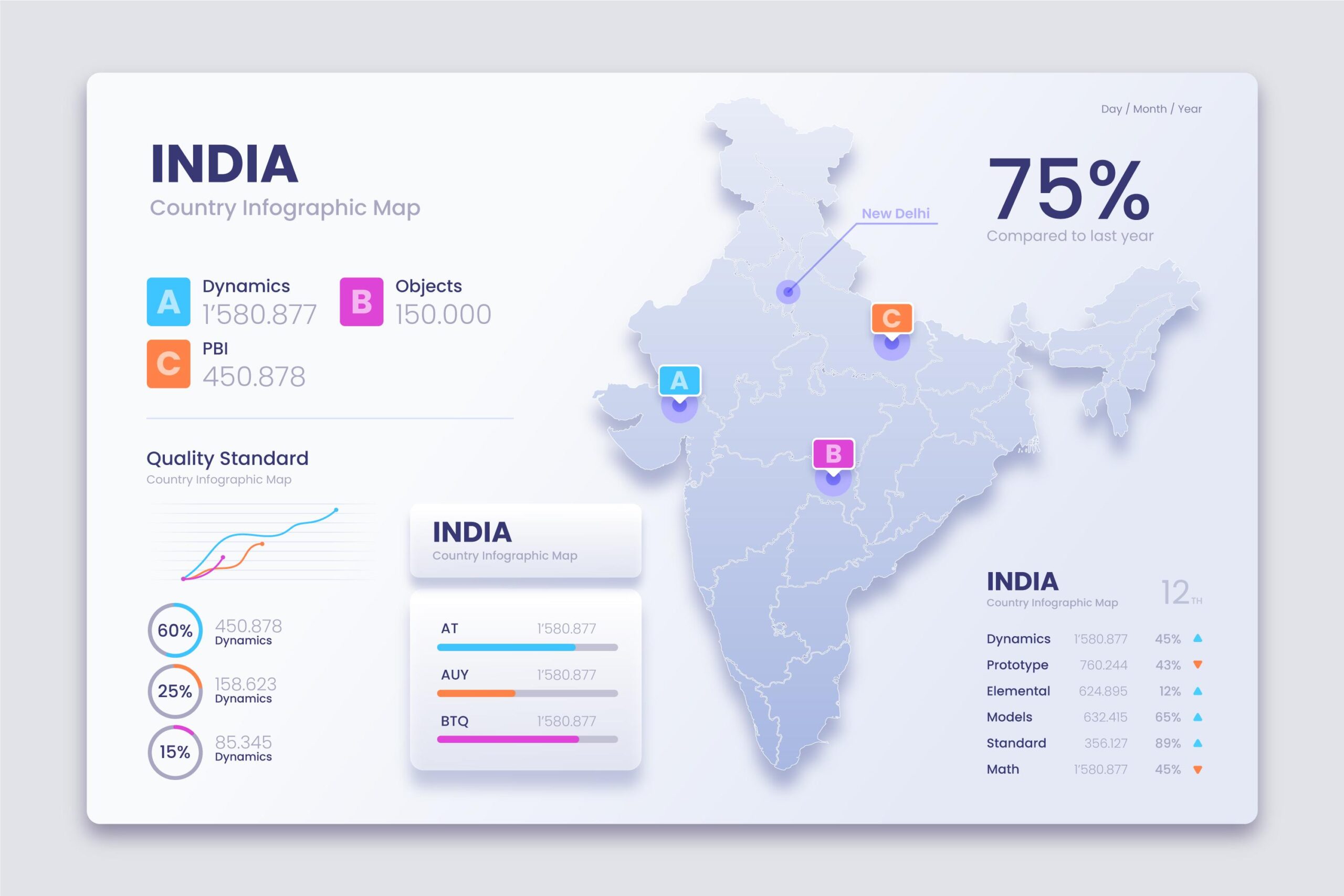 Depict timelines through infographic design
Sometimes, historical data, facts, and dates are challenging for people to understand and remember. Therefore incorporate historical timelines in your graphics with the help of professional graphic design skills.
Visualizing historical timelines, dates, and information will not only aid in understanding historical events better but also increase your infographic's visual appeal.
Infographics are designed to communicate information quickly and effectively with your audience. Percentages are one of the fundamental numerical types that catch people's attention.
Interpreting percentages and aligning them accurately in your creative infographic design with the help of professional graphic design techniques can present your data in a clear and visually engaging manner.
Make a comparison with the infographic design graphics
Comparing different data belonging to different brands and industries in the market through creative designing helps your audience understand and better visualize information, patterns, and trends in different areas.
If you have a new product launch or a development, make a creative infographic design to showcase a comparison between the new and the old version of your product. Also, don't forget to emphasize the improvements and properties of the new one.
Finding it difficult to understand the process and design your infographic? Please check out Dad of Ad, one of India's best infographic design services agencies. We have a group of professional graphic designers who will produce creative infographics to help your audience visualize your data.
Highlighting the interesting or significant data in your creative infographic design helps you draw your audience's attention to specific, relevant facts and figures that are noteworthy.
The best way to emphasize your targeted facts and information is to highlight it with a font variation from the same font style or some colors. Highlighting the data with a color not only separates the irrelevant data from the prominent ones but also depicts a creative designing infographic.
Shift colors gradually when providing information
In the creative designing of an infographic, colors matter a lot. The proper layout of colors arranged properly improves the quality of your infographic.
Do not neglect the importance of proper color arrangement. Decorate your creative infographic design by using a distinct color in each column. Keep changing colors gradually as you move to the next column. This will improve both clarity as well as effective communication.
To get an overall understanding of creative infographic design you can also visit an infographic design services agency.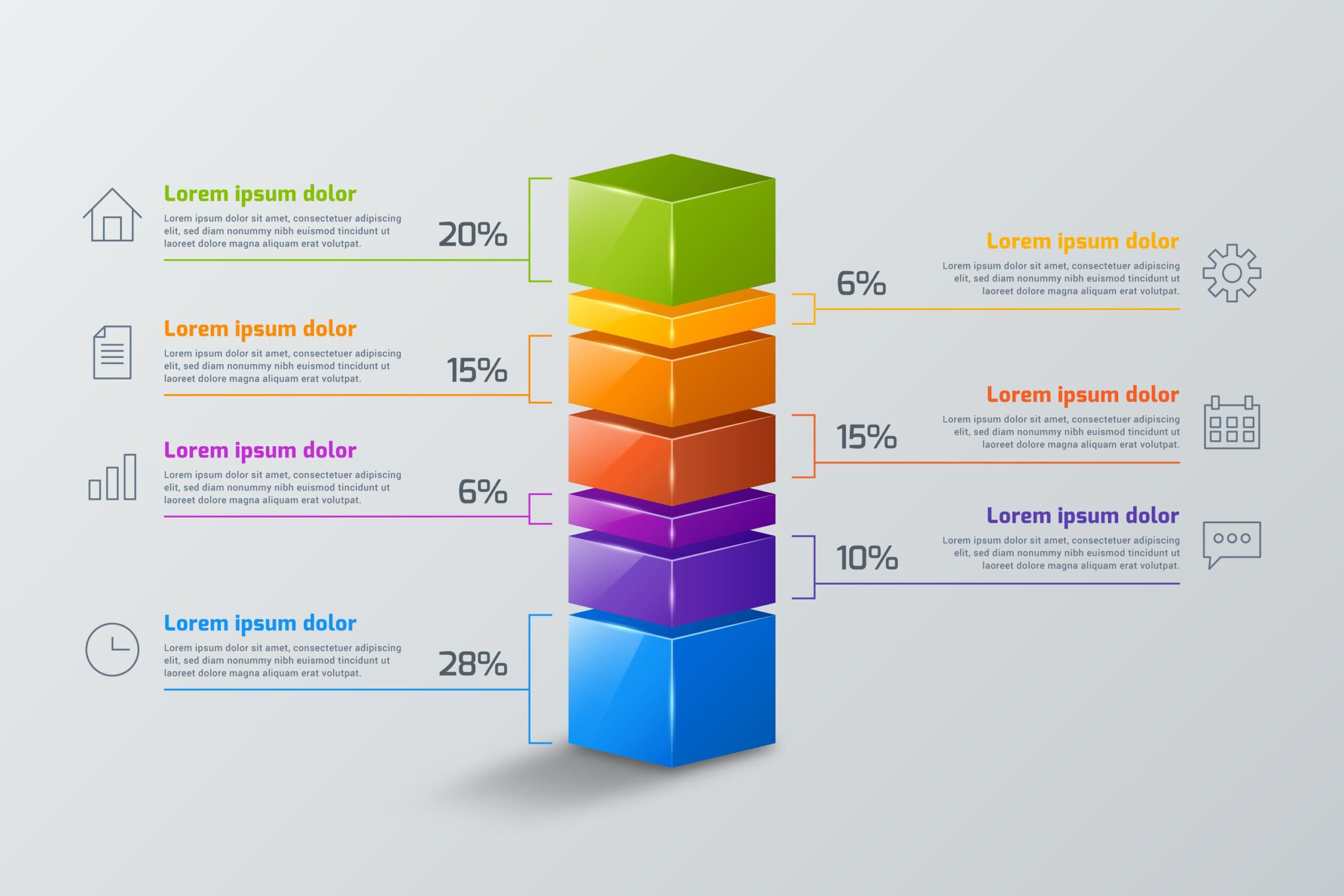 Feature icons as primary indicators
Creative designing in infographics is designed to facilitate easy and effective communication through imagery and icons, to discard long textual elements. 
If the textual content is dominant, what is the point of creating an infographic?
Keep the imagery and icons as the primary indicators and the dominant face of your infographics. 
People get attracted to and understand imagery faster than text and written content. Images and icons also help enhance the creative designing and beauty of an infographic.
Consult a good infographic design services agency to avail services which will have all these factors in mind. We will create outstanding infographics by applying professional graphic designing techniques.
The "voilas" you can create with an engaging infographic design
Illustrate background profile
When your company or business gets successful, people show their interest in knowing your success story, background of your company, and more. You can illustrate your business background by means of creative infographic design.
Additionally, through creative designing of imagery, icons, and graphical visuals, you can give an entire outline of your company profile. 
Demonstrate your company's core values, goals and objectives, mission statements, beginning experience, challenges your company faced, prudent risks taken, and significant problems tackled.
infographics are useful for an effective presentation of your resume as well. you can showcase your profile, educational qualification, work experience, and areas of interest with the help of a resume generated through creative infographic design.
Presenting your profile through a creative resume will increase your chances of being preferred for your dream job.
With the help of creative infographic design, you can display your available offers to the customers. Explain your offer in detail with step-by-step features and benefits.
Use creative designing in your infographics to show how your product offer is beneficial to your customers in contrast to other brands and products. Identify what makes your offer different from other proposals in the market and express it through your infographic, creating a unique design.
You can introduce your new offerings and present little-known facts about your product by illustrating them with creative designing in your infographic.
Demonstrate usage guidelines
Several customers may be finding it difficult to understand how to use your product or access your services. They may be having a lot of questions and concerns about your products and services.
Generate an infographic beautifully with excellent, professional graphic design skills demonstrating answers to their queries, solutions to their problems, and instructions on how to avail your services or get started with your product.
Promote your business pitch
A business pitch is an effective element of promoting your business and building brand awareness. However, the way you present your pitch will also impact what outcomes your pitch will generate.
It is important to make sure your pitch deck has clarity. Incorporate creative infographic design to design your business pitch. Use images and graphical presentations related to your business  and customer interest. This will prove to be an effective tool for business promotion.
Check out Dad of Ad, the best infographic design services agency to promote your business pitch by creating compelling infographic designs that reflect your pitch and support your customer interest.
Nowadays people feel like reading articles is a boring and burdensome task. They are not attracted to reading long-form articles. They are more attached to and fascinated by pictures, images, creative designing, graphical presentations, and illustrations.
It is said that a picture is worth 1000 thousand words. Create infographics describing the crucial information, unique facts, and important statistics in your article with the help of professional graphic design skills. This will set up a clear understanding and act as a source for promoting your article.
When something goes viral on social media or other online platforms, people take interest in that particular matter and express interest in knowing more about it.
Therefore presenting a creative infographic design can be a great idea to repurpose your old viral content as well as educate your audience about it in the process. Moreover, implementing stunning creative designing in your infographic can increase their interest in your content.
Creating an infographic to portray news highlights can be an effective way to present information in a concise, still informative and engaging manner. It provides a comprehensive and easily digestible overview of the news highlights. 
You can identify the most important new events, facts, and figures, bring out its significance as well as what impact it is going to create in the upcoming days through your infographic.
To present important news data related to your industry with the help of a well-designed infographic contact Dad of Ad, one of best Infographic design services agencies.
Promote thought leadership
If you are a business owner, or director, and serving as the executive of your organization, you can depict your journey, thoughts, and principles which helped you reach your position and effectively run an organization through an infographic.
You can share your thoughts on leadership, leadership traits and qualities, and what it takes to become a successful business leader. This will also allow you to showcase the awards and recognitions you are honored with.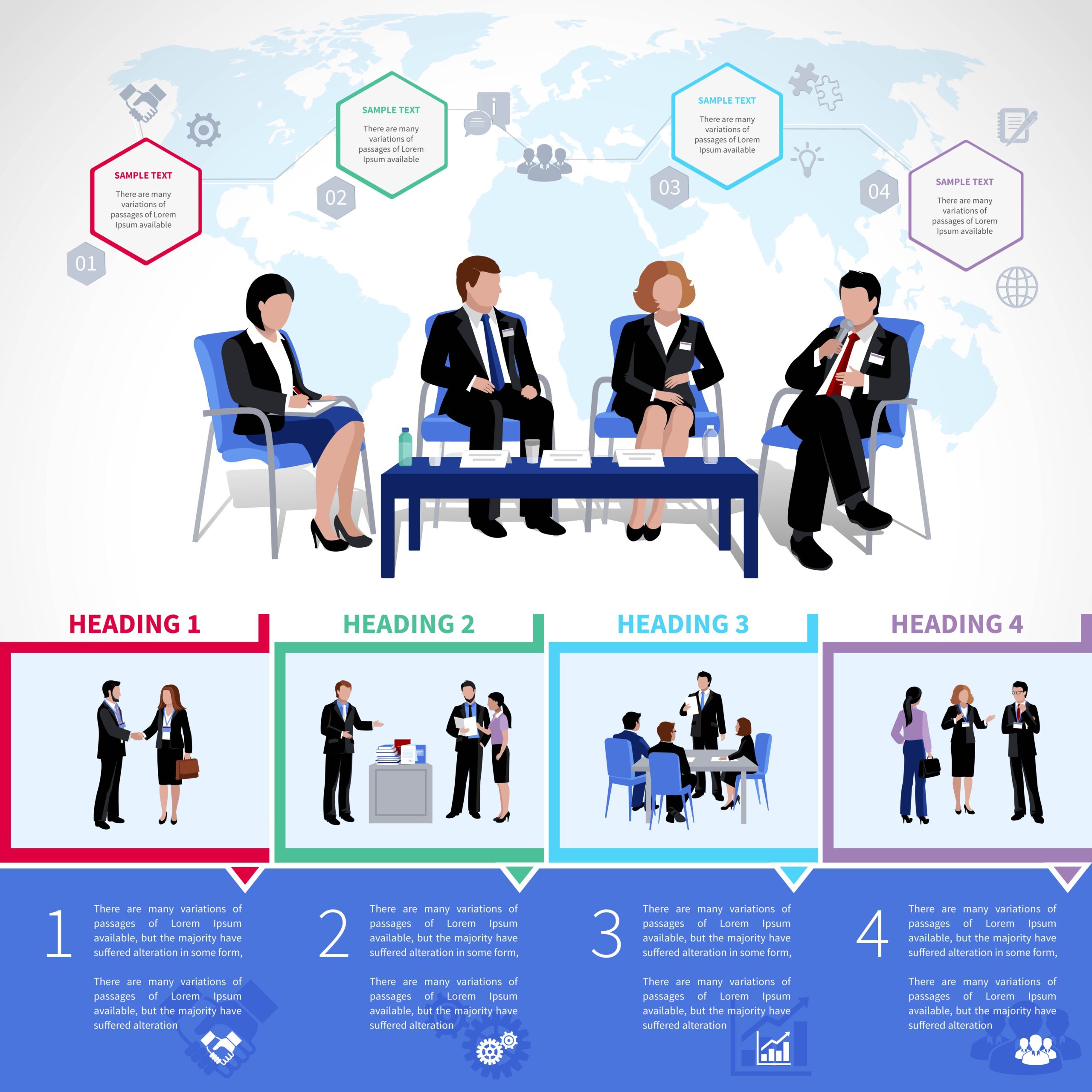 As information is growing and expanding, myths are flourishing as well. You might think of busting myths related to your industry or a particular topic but may be unable to do them effectively.
Presenting research papers and writing articles on myths may not work as people are not attracted to readable content. Here comes the significance of creative designing and infographic design services.
With the help of Creative Infographic design, you can bust a myth by generating its visual presentation, your research on it, and the genuine facts and figures about the myth.
When you find something inspirational, you can create striking infographics and explain your idea through symbolic infographic representation using imagery, stunning icons, and graphical visuals.
These inspirational thoughts may include a good quotation, an effective remedy for a problem, a new update in your field, a book review, and maybe something else. Creative designing will allow you to put forward your inspirational thoughts, ideas, and suggestions in a creative style.
Demonstrate future updates
People are excited to know more about your future products, updates, and improvements. They want to perceive how your brand looks some years ahead of this time.
However, posting detailed articles in a written format discussing your updates and improvements will not do the work as people are less attracted to magazines and reading articles.
But bringing down the outline, future updates, and the latest trends in a frame of infographics with professional graphic design skills may upscale your objectives by easily and effectively communicating with your audience.
If you are a researcher, industry leader, entrepreneur, or professional in your field, you want to present your research, significant facts and information, and the outcomes of your research in a way that's easy to absorb and interpret.
In such a moment, making use of a creative infographic design can be of immense help in presenting your research paper in a more innovative method. You can use graphical presentations and imagery to illustrate complex procedures, tables, important data, and the conclusion of your research.
Help your audience succeed
If you are an expert in your field or have adequate knowledge about a particular topic, help your audience through guidance, instructions, solutions to their problems, and whatever you feel necessary, by explaining them effectively in infographics.
Identify people's problems, their pain points, the challenges they are facing, and their interests. Address issues and illustrate solutions related to people's interest in a decorative structure through creative designing.
Stay ahead during festive seasons
Most business information related to product offers, sales, new products, and updates is exchanged during the festive season. Also, this is the time people are too caught up in festivities to spend time on engaging with content for longer periods.
In such circumstances, professional graphic design techniques help a lot in promoting your product, establishing quick and effective communication with your customers, and increasing your sales and purchases.
Creative designing of infographics can keep you ahead of the game by providing the best visuals people can engage with, keeping low-performing posts or advertisements aside.
Are you busy with your schedule during your festival season and want to have eye-captivating infographics to connect with your customers and promote your brand? Check out our services at Dad Of Ad, one of India's best infographic design services agencies.
Cultural and social trends
Creative infographic design is a great way to visualize and represent cultural and social trends. 
You can place a map with your creative infographic design and locate various places to showcase how globalization affects different cultures and social values in the world. What economic, social, cultural, and political impact was noticed after globalization?
You can demonstrate the economic and social inequality in different cultures and regions of the world. You can also present various demographic figures like the number of children, similarly aged groups of people, women, working professionals, dependents, etc. among various social or cultural groups.
Conclusion
In this age of information, where facts and figures are flooding the internet relentlessly, infographics act as beacons of clarity and understanding. They can filter complex concepts, entangled data sets, technical data, and profound insights into visually engaging highlights.
Creating impactful infographics is not a simple task. It requires investing time in thoughtful designing and purposeful planning. It requires a set of professional graphic design skills and creativity.
As it may be a meticulous task for you, you can avail infographic design services from agencies like Dad Of Ad, one of India's top advertising and graphic designing agencies. We will provide you with innovative infographics designed accurately with your best interest in mind.